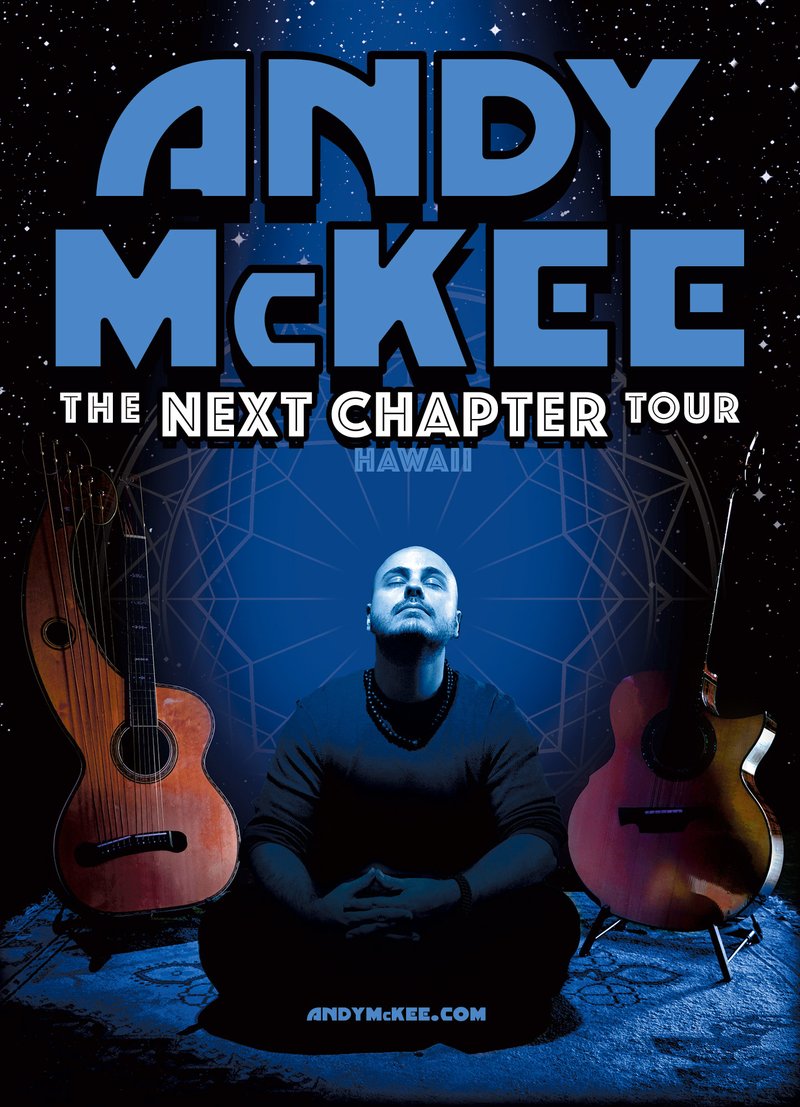 Blues Bear Hawaii is proud to announce that guitar virtuoso Andy McKee, a master practitioner of folk, blues, bluegrass and other musical genres will be performing in Hawaii as part of his "The Next Chapter Tour 2017".

Andy McKee is among the world's finest acoustic guitarists, and his crossover success to over 150 million YouTube viewers underscores his emergence as one of today's most unique and influential artists. To fans of virtuoso musicianship it is Andy's attention to song structure and melodic content that elevates him above the rest. To fans of popular music Andy entertains both the eye and the ear as he magically transforms the steel string guitar into full orchestra via his use of altered tunings, tapping, partial capos, percussive hits and a signature two-handed technique. He's been featured as a cover story in both Acoustic Guitar Magazine in the U.S. and Acoustic Magazine in the UK, and is also the figurehead of the unique Guitar Masters tours. McKee's tour dates have taken through Europe, Asia, Australia and North America, including legendary acts including Prince and Dream Theater.

Live performances of Andy's have become a point of fascination with his loyal followers. Andy released a live album in late 2015 featuring tracks from his entire catalog. "Live Book" was recorded in December 2015 at The Melting Point in Athens, GA, the Red Clay Music Foundry in Duluth, Ga. and Workplay in Birmingham, Al. Andy went through the recordings of three live shows and selected the finest takes of each which he has released in "Live Book" with hopes that he can showcase the energy he creates for those he have not been able to attend his shows.
McKee is the first artist to be signed to CGP Sounds founded by Tommy Emmanuel.
Live Book was released worldwide on April 22 through CGP Sounds. Andy McKee is now embarking on "The Next Chapter Tour" throughout Europe, Asia and the United States which bring him here to Hawaii.
Check Him Out: www.andymckee.com
Follow Him on Face Book: https://www.facebook.com/andymckeemusic
"Andy is a great player who puts all these guitar techniques into songs he writes and plays that make them quite interesting. But it's still all about the song." - ERIC JOHNSON
"Andy McKee has been launched into the upper stratosphere of the world's very best acoustic players, and for good reason. His densely melodic and percussive style is mesmerizing to say the least." GUITAR WORLD

"This gent takes you on a vision of the future of the possibilities of the guitar, and he makes it look promising!"-JAZZ WEEKLY
"The appeal of instrumental acoustic guitar music probably isn't obvious to everyone. It's a genre that seems almost exclusively designed for musicians. Artists like Andy McKee are doing their best to break down that particular barrier, with startlingly beautiful results." -HERALD SCOTLAND
"In my humble opinion, Andy is the most innovative and exciting finger-style guitarist to emerge in years Andy has developed a mastery of the 6-string guitar and the harp guitar that leaves me speechless. He is the most textural player of the instrument since Michael Hedges, and he creates sonic architecture worthy of the great modern composers for any instrument." - DON ROSS
Oahu
July 8 & 9 Blue Note Hawaii
2335 Kalakaua Ave. Honolulu, Hi. 96815
Venue: 808-808-777-4890 www.bluenotehawaii.com
Two Shows: 6:30 pm. / 9:00 pm.

Kona - Big Island - July 11 - 12; Tues. - Weds.
Gertrude's Jazz Bar

75-5699 Alii Dr. Kailua-Kona, Hi. 96740 808-327-5299
Information:
808-896-4845 $35. Gen. Adm.
Doors: 5:30 pm. Show: 7:00 pm.
July 14, Fri.
Maui Arts & Cultural Center - McCoy Theater
Venue: 808-242-SHOW (7469) Tickets: $38. $48. Reserved
Doors: 7:00 pm. Show: 7:30 pm.

Maui: www.mauiarts.org or 808-242-7469

Kohala - Big Island - July 15, Sat.
Big Island Hapuna Prince Hotel, Kamani Room
62-100 Kauna'oa Drive Kohala Coast - Kamuela, Hi. 96743
Information: 808-896-4845 Tickets: $35. Gen. Adm. Adv. $48. Gold Circle
Doors: 5:30 pm. Show: 7:00 pm.

Guitar Workshop and Meet & Greet with Andy McKee
Guitar Workshop (1 hr.)
2:00 - 3:00 pm. Cost: $59.
Meet & Greet to follow workshop
Note: must be booked in advance. Buy Guitar workshop ticket at www.bluesbearhawaii.com
Online Info, Tickets & Gold Circle: www.bluesbearhawaii.com or call: 808-896-4845

Tickets Outlets:
Maui: www.mauiarts.org or 808-242-7469

Big Island: www.bluesbearhawaii.com (Gold Circle) - Gertrude's Jazz Bar, Kona Music Exchange - Kailua-Kona; Kiernan Music - Old Town Kainaliu; Waimea General Store - Parker Square, Kamuela; Taro Patch Gifts - Honoka'a; CD Wizard, Hilo Music Exchange, Hilo Ukulele and Guitar - Hilo
Blues Bear Hawaii
"Keeping The Music Live"
Concert Information Hot Line 808-896-4845