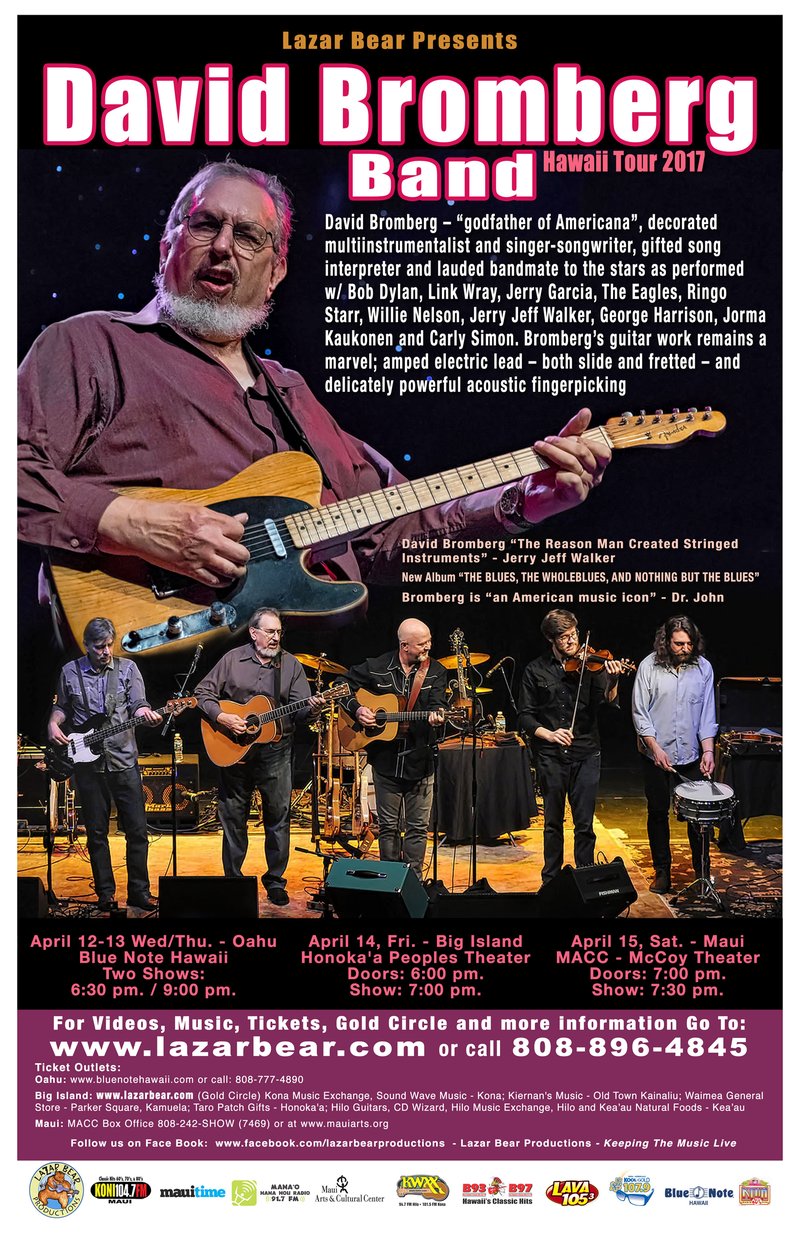 Lazar Bear is proud to announce that The David Bromberg Band is coming to Hawaii in support of their new release'THE BLUES, THE WHOLE BLUES, AND NOTHING BUT THE BLUES' OCTOBER 14 on Red House Records. David Bromberg – godfather of Americana, decorated multi-instrumentalist and singer-songwriter, gifted song interpreter and lauded bandmate to the stars with his David Bromberg Quintet will be playing a Three Island Tour in April. The Band will feature David Bromberg - guitar & vocals, Mark Cosgrove - guitars, mandolin, vocals, Nate Grower - fiddle, mandolin, guitar, vocals, Josh Kanusky - drums and Suavek Zaniesienko - bass, vocals.
The play dates are April 12 -13 Blue Note Honolulu, April 14 Honoka'a Peoples Theater, Big Island and April 15 Maui Arts & Cultural Ctr., Maui. Bromberg, known as a hired gun guitarist for recording sessions, ultimately playing on hundreds of records by artists including Bob Dylan (New Morning, Self Portrait, Dylan), Link Wray, The Eagles, Ringo Starr, Willie Nelson, Jerry Jeff Walker, George Harrison, Jorma Kaukonen and Carly Simon.
THE NEW ALBUM:
DAVID BROMBERG - "THE REASON MAN CREATED STRINGED INSTRUMENTS" (JERRY JEFF WALKER) - RETURNS WITH NEW ALBUM, 'THE BLUES, THE WHOLE BLUES, AND NOTHING BUT THE BLUES' OCTOBER 14 ON RED HOUSE RECORDS FIRST SINGLE "WALKIN' BLUES" STREAMING NOW: http://bit.ly/2apqgz8 On October 14, David Bromberg – a godfather of Americana, decorated multi-instrumentalist and singer-songwriter, gifted song interpreter and lauded bandmate to the stars - will release 'The Blues, The Whole Blues and Nothing But The Blues' (Red House Records). Produced by Levon Helm and Bob Dylan's longtime collaborator and three-time Grammy winner, Larry Campbell, Bromberg's first album since 2013 is a wonderfully curated selection of deep cuts from the blues genre, in addition to original compositions. Bromberg found his inspiration for the album when he heard Willie Nelson repeat a quote from Texas fiddler Johnny Gimble: "There's only two kinds of music - the Star Spangled Banner and the Blues." Hear a blustering take on Robert Johnson's "Walkin' Blues" here: http://bit.ly/2apqgz8 Through Bromberg's unparalleled playing and gift for interpretation, a crack band and Campbell's tasteful horn arrangements, the record reaches electrifying heights as well as intimate acoustic moments, breathing fresh life into the songs of Robert Johnson, Bobby Charles, George "Little Hat" Jones, Ray Charles, and Sonny Boy Williamson, among others. Ray Charles' "A Fool For You" is one of many album stand-outs, featuring just David on a spellbinding solo acoustic guitar performance and vocals. David learned the song "Why Are People Like That?" from a Muddy Waters record, a song written by one of his favorite writers: Bobby Charles. Bromberg dug deep into recorded music, sometimes finding songs with mysterious origins such as "How Come My Dog Don't Bark When You Come 'Round," or "900 Miles," an old country song imagined as if Howlin' Wolf were to play it. Read David's liner notes here: LINK Bromberg is "an American music icon" (Dr. John), and counts Bob Dylan, George Harrison, Ringo Starr, Emmylou Harris, Jerry Garcia, Bonnie Raitt, Carly Simon, The Eagles, and so many more as collaborators, fans and friends. This is Bromberg's 18th album, the latest in a solo career that began in 1971 on his self-titled debut. www.davidbromberg.net/About
David Bromberg "We shall not cease from exploration, and the end of all our exploring will be to arrive where we started and know the place for the first time." – T.S. Eliot "There's only two kinds of music – 'the Star Spangled Banner' and the blues." – Willie Nelson, quoting renowned fiddler Johnny Gimble For Americana godfather David Bromberg, it all began with the blues. His incredible journey spans five-and-a-half decades, and includes – but is not limited to – adventures with Bob Dylan, George Harrison, Jerry Garcia, and music and life lessons from seminal blues guitarist Reverend Gary Davis, who claimed the young Bromberg as a son. A musician's musician, Bromberg's mastery of several stringed instruments (guitar, fiddle, Dobro, mandolin), and multiple styles is legendary, leading Dr. John to declare him an American icon. In producing John Hartford's hugely influential Aereo-Plain LP, Bromberg even co-invented a genre: Newgrass. Add in a period of self-imposed exile from his passion (1980-2002), during which he became a renowned violin expert, and Wilmington, Delaware's cultural ambassador; top that off with a triumphant return to music-making, and you have an amazing tale leading back to one place: the blues. Now, with The Blues, the Whole Blues, and Nothing But the Blues, his first release for Red House Records, Bromberg and multi-Grammy-winning producer/accompanist Larry Campbell (Dylan, Levon Helm, Paul Simon) focus on the music David discovered in high school, when, circa late 50s, he was introduced to a friend's dad's collection of blues 78s. He'd only just taken up guitar as a means to pass the time while in bed with the measles. "I loved those 78s so much," says David, "I taped them on a portable reel-to-reel, so I could listen at home and learn." That love is evident in The Blues, the Whole Blues and Nothing But the Blues. The album is both blues primer and an opportunity to witness a master embracing this distinctly American music with passion and grace. "There's a lot of different types of blues on there," Bromberg notes. "We decided to start it off with a dyed-in-the-wool blues [Robert Johnson's "Walkin' Blues"], but there's also country blues ["Kentucky Blues"], and gospel-influenced blues ["Yield Not"]."
Bromberg, a onetime sideman himself, is quick to give props to his long-running road-and-studio cohorts: Butch Amiot (bass), Josh Kanusky (drums), Mark Cosgrove (guitar), Nate Grower (fiddle), and Peter Ecklund (cornet). Of producer, arranger, multi-instrumentalist, fellow Reverend Gary Davis acolyte, and old friend Larry Campbell, he says, "To use a baseball analogy, Larry is like a star at any position in the infield, because he can play them all." Since meeting in the early 80's, Campbell and Bromberg had crossed paths many times. They finally worked together in Levon Helm's studio for David's 2013 return-to-form Only Slightly Mad. "He wanted to do a Chicago blues album then," Larry says. "But we decided to remind folks of what he does better than anyone: the whole gamut of Americana, the full Brombergian. And we got some new fans. For this one, we went back to the blues, and made use of David's great vocabulary in all veins of the genre." Bromberg's guitar work remains a marvel; amped electric lead – both slide and fretted – and delicately powerful acoustic fingerpicking propel these songs with the same force that made him the go-to guy for acts ranging from the Eagles to Link Wray to Phoebe Snow. This is a man who can go full-on Chicago gutbucket with "You Don't Have to Go" (a Bromberg original), then slay with the jazz inflections of Ray Charles' "A Fool for You," rendered here intimately solo. Although Bromberg points out he's not the same guitarist he was before his two decades away from performing and recording. "I play differently," he says. "I can't play as fast, but playing slower gives me more time to think about what I'm doing." "He's always able to plug into the emotion of a song," Campbell says. "He's incredibly inventive as a player. Sometimes restrictions can be good." Listeners can actually hear what the years have given Bromberg in the spartan, acoustic "Delia." Bromberg originally covered this traditional nugget on his 1972 self-titled debut – a live, solo rendition with a spoken-word break.
The new version features Campbell and Bromberg in the studio, revisiting Bromberg's live arrangement from their occasional duo tours. It is mesmerizing, with gravitas only experience can bring. "Larry and I have played 'Delia' a lot," Bromberg says. "I love what he does on it." Longtime fans will notice another difference: Bromberg's voice; he's really singing. The vocals cover a broad range: impassioned, vibrato-laden testifying; pew-jumping soul shouts; soft, confident, crooning; and, of course, his peerless raconteur chops (particularly in "You Been A Good Old Wagon"). "When I first started," Bromberg says, "singing was something I did between guitar solos. But during the period I did so little performing, I took some voice lessons, and now, I know more what I'm doing. I love singing now. Love it." Larry Campbell was impressed at the newfound vocal chops, too. "He is a better vocalist than ever," he says. "He's strong, and present. None of the songs took more than three takes. And he was able to take the old folk song '900 Miles' a "railroad song" made famous by Odetta and Woody Guthrie, and turn it into an electric blues that's a real high point of the album for me." Although he remains the proprietor of the beloved David Bromberg Fine Violins in Wilmington, Delaware – "I love my shop," he says – Bromberg makes time to tour with his quintet, and he's already included every song in his live repertoire (save "Yield Not," which requires a choir), from The Blues, the Whole Blues and Nothing But the Blues. As ever, he brings his characteristic devotional intensity to the music, invigorating his surprise third act with the same passion he felt as a teen, spinning those blues 78s, just before the road called.
Here are some pull quotes for the new album:
"This is a guy who knows no boundaries, and has mastered most musical genres in the course of a career that now spans over half a century" –Elmore Magazine
"He and his band, their backup singers and guest horn-players, all sound as though they are having a helluva good time….he knows how to sell a song and his guitar chops remain awe-inspiring." –Blues Music Magazine
"The album solidifies Bromberg's legacy as an American music icon in his own right" –Music Aficionado
"He pioneered the seemingly inconceivable mash up of country and western, low-down blues, bluegrass and sea shanties with searing rock and roll guitar licks….Bromberg, now 71, set the course and standards for today's Americana." – No Depression
"Bromberg has never sung better, his wise, warm warble enhanced by masterful timing and droll wit." – Associated Press
"The precision of players and the interplay of instruments gives them the freedom to move from the country blues of the Mississippi Delta to the jug band tradition of the urban South, and from New Orleans to Chicago, embracing the breadth of American music….a timeless album for the current moment." – Pop Matters
"Even his original material feels like its ploughed from the blues' original roots…..he's certainly succeeded here." – Glide
"Rather than deliver paint-by-numbers performances, the bandleader infuses his songs and treatments of mostly familiar historic blues fare with conviction." -Downbeat
Discography: (1971) - (1972 - (1974) - (1975) = (1976) - Reckless Abandon (1977) - (1977) - Bandit in a Bathing Suit (1978) - My Own House (1978) - You Should See the Rest of the Band (1980 - Long Way from Here (1987) - Sideman Serenade (1989) - The Player: A Retrospective (1998) - David Bromberg Quartet Live: New York City 1982 (2003) - David Bromberg Quartet at MerleFest 2006 (2006) - Try Me One More Time (2007) - Use Me (2011)




Hawaii Tour Dates:
April 12-13 - Oahu
Blue Note Hawaii
2335 Kalakaua Ave. Honolulu, Hi. 96815
Venue: 808-808-777-4890 Tickets: $38. $48. $58. www.bluenotehawaii.com
Two Shows: 6:30 pm. / 9:00 pm.
April 14, Friday - Big Island
Honoka'a Peoples Theaters
45-3574 Mamane st. Honka'a, Hi. 96727
Information: 808-896-4845 $45. $65. Gold Circle
Doors: 6:00 pm Show: 7:00 pm.


April 15, Saturday - Maui
Maui Arts & Cultural Center - McCoy Theater
One Cameron Way, Wailuku, Hi. 96732
Venue: **808-242-SHOW (7469)** Tickets: $58. $65. Reserved
MACC Box Office 808-242- SHOW (7469) or www.mauiarts.org
Doors: 7:00 pm Show: 7:30 pm.


Ticket Outlets & Information:
Online information, tickets and Gold Circle: www.lazarbear.com or call: 808-896-4845

Oahu: Blue Note Hawaii www.bluenotehawaii.com
Big Island: Kona Music Exchange, Sound Wave Music - Kona; Kiernan's Music - Old Town Kainaliu; Waimea General Store - Parker Square, Kamuela; Taro Patch Gifts - Honoka'a; Hilo Guitars, CD Wizard, Hilo Music Exchange, Hilo and Kea'au Natural Foods - Kea'au
Maui: Maui Arts & Cultural Center - McCoy Theater or www.mauiarts.org
A LAZAR BEAR PRODUCTION
Keeping The Music Live
Concert Information Hot Line
808-896-4845