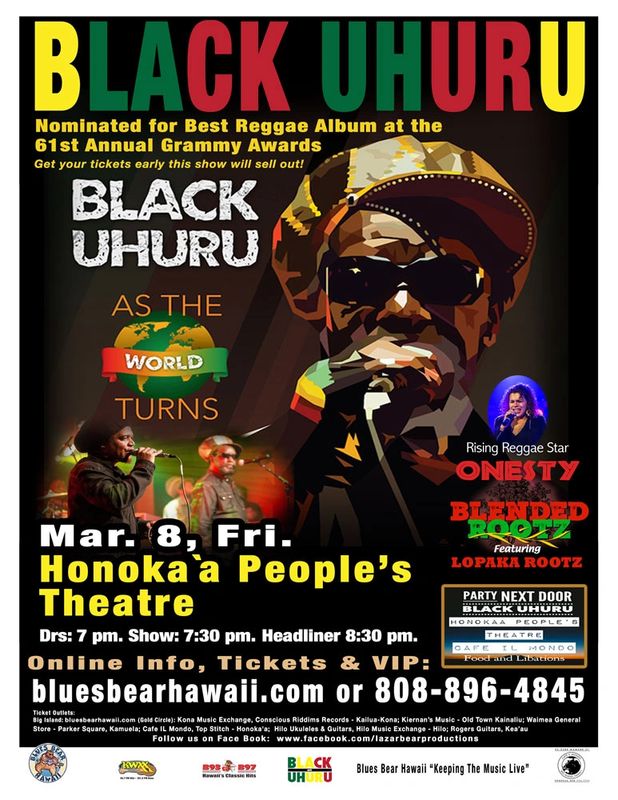 Blues Bear is proud to present Grammy Award winning Reggae Super Stars Black Uhuru "As The World Turns" their new release Nominated For Best Reggae Album At The 61 Annual Grammy Awards. Also performing is Multitalented Reggae Artist, Belgium born Onesty and opening the show Big Islands "Blended Rootz" featuring Lopaka Rootz.

Get your tickets early this show will sell out!

The Legendary Black Uhuru is one of the most popular & successful Reggae Groups to come out of Kingston Jamaica's "Waterhouse" District.  
Black Uhuru's long success has allowed them to become Ambassadors of Reggae, winning the first Reggae Grammy Award for Best Reggae Album with their ground breaking album "Athenm" as well as the Diamonds Award of Excellence. Founding band member Derrick "Duckie" Simpson leads the group along with Oneil "Andrew Bees" Beckford (lead singer) and their 7pc band. 
The New Black Uhuru Album Is Nominated For Grammy December 7, 2018
"As The World Turns" nominated for Best Reggae Album at the 61st Annual Grammy Awards
The New Black Uhuru Album Is On The World Charts November 1, 2018
"As The World Turns" is on the Reggae Global Charts! Single "Chalice" on New World Buzz Charts! New album is on Top 25 Reggae Chart 
The New Black Uhuru Album Is On Billboard Chart October 1, 2018
After 24 years Black Uhuru is back on reggae music chart   "As The World Turns" on the Reggae Global Charts Top 20 Album for November & December! 
"Jah Guide" was on the Reggae Global Charts Top 20 Singles for 7 months!
"Chalice" single has been on the New World Buzz Hot 30 Tracks for 15 Weeks!
"As The World Turns" has been on  Clinton Lindsay's Foundation Radio Media Network Top 25 Reggae Chart & Top 15 Album Charts! Foundation Radio Media!
Onesty

Party Before & After right next door 
"Join us at Cafe il Mondo for Pre-Concert Food and Drinks"
Tour dates:
March 8, Fri. - Big Island 
The Honoka'a Peoples Theatre

 
45-3574 Mamane St. Honoka'a, HI 96727
Tickets: $45. Gen. Adm.  $65. VIP Seating
Doors: 7:00 pm.  Show: 7:30 pm.   Headliners 8:30 pm.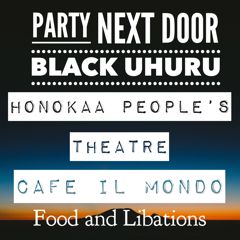 Ticket Outlets & Information: 
Online information, tickets and VIP: bluesbearhawaii.com or call: 808-896-4845
Big Island: Kona Music Exchange, Conscious Riddims Records - Kona, Kiernan's Music - Old Town Kainaliu; Waimea General Store - Parker Square, Kamuela; Cafe IL Mondo, Top Stitch - Honoka'a; Hilo Ukulele & Guitar, Hilo Music Exchange - Hilo and Rogers Guitar - Kea'au  
A Blues Bear Hawaii Production 
Keeping The Music Live
Concert Information Hot Line 808-896-4845
Artist Biography 
The legendary Black Uhuru is one of the most popular successful reggae groups to come out of Jamaica. For over 50 years Black Uhuru has remained one of the most popular recognized prolific reggae band from Jamaica. The living legends have earned several achievements in the music industry including winning the first ever Grammy Award for reggae music. They're long success along with having the highest reggae record sales after Bob Marley & songs sampled by several other artists over the years has allowed them to become Ambassadors of reggae. 
The roots of Black Uhuru formed in Kingston's "Waterhouse" District in the late 60's. It is the home of founder & leader Derrick "Duckie" Simpson along with all the rest of the singers from the group. The original Uhuru's Swahili for "freedom" were Duckie, Don Carlos & Garth Dennis. The first song was a Curtis Mayfield cover of "Folk Song". They made only a couple more songs before Don left to pursue a solo career & Garth joined Wailing Souls. The two were replaced by Michael Rose & Errol Nelson both from Waterhouse. They recorded the debut album "Love Crises" in 1977 for Prince Jammy later re-released as "Black Sounds of Freedom". Errol later left the group to join the Jays & was replaced by female singer Puma Jones. 
This new line-up is when the band began to collaborate with Sly & Robbie & developed the "classic Uhuru" sound of the 80's. A unique style full of heavy drum & bass, sharp keys, loud guitar riffs & long instrumentals filled with whirly background effects & the signature "who oh-oh oh's" echo. It was during this period they signed with Island Records. They began touring internationally & started receiving worldwide attention. They recorded some of their most popular albums like "Guess Who's Coming To Dinner" "Sensimelia" & "Chill Out". The album "Red" was voted #23 for Rolling Stone Magazine list of 100 greatest albums of the 80's. And history was made when they won reggae's first grammy award in 1984 for the album "Anthem". Shortly after the grammy Michael left the group to go solo. 
Another Waterhouse resident named Junior Reid became the new lead singer. They released the albums "Brutal" nominated for grammy & "Positive" with Ras Records. These albums included popular hits like "Dreadlocks on the Mountain" "Fit You Haffi Fit" & one of the groups first music videos "Great Train Robbery". Sadly due to ill health Puma passed away in 1990. Around this time Jr. Reid was having visa issues unable to tour. 
During the mid 90's the original members reunited. They released four albums "Now",  "Iron", Storm", "Mystical Truth" & "Strongg" all nominated for grammy. They made an award-winning music video for "Tip of the Iceberg" that featured rap star Ice-T & another video for "One Love" featuring Louie Rankin. They performed live on television for VH1 a cover version of Jimmy Hendrix "Hey Joe". In 1994 they won the Diamonds Awards for Excellence. Unfortunately, the group began to dispute over band legal rights & went to court in the late 90's. Duckie won the rights to the name. 
As the new millennium approached Duckie found Andrew Bee's once again from Waterhouse. Bee's first tour with the band was in 1996 in Brazil. They released two albums "Unification" in 1998 & "Dynasty" in 2001. In 2002 they reunited with Sly & Robbie for an international world tour. They released a live album/dvd "Dubbin it Live". The group resurfaced in 2010 & has been touring extensively throughout Europe, South America & the United States. In 2012 they performed in a Broadway musical in Los Angeles called "Loving the Silent Tears". In 2013 Duckie was awarded a lifetime achievement award from the IRWMA. In 2017 they released a new single & music video "Jah Guide" a Peter Tosh tribute that featured Bugle.  In 2018 the album "As The World Turns" was released in September. The album has been nominated for best Reggae Album for the 61st annual Grammy Awards!!!
ONESTY - Bio Born in Belgium, Tina Sureda Castello, also known as Onesty is a multitalented artist. At the age of six Onesty started to sing in the Antwerp cathedral choir, this experience was the base of her musical evolution. The Sureda family, a spring of vocal talent, surrounded her with music, singing and concerts. She would always follow them around and imitate them when nobody was watching her. Onesty already knew at a tender age, that her main goal was, BECOMING A SINGER. She showed natural songwriting during her early years, as she was only 8 years old when she wrote two completed songs. As a young teenager Onesty developed a great love for urban music, Reggae, Soul, Hip Hop, R&B etc….. At that time she also joined an urban collective group of dancers. They were called Jobo's streetwise dancers. They traveled all over Europe, doing different kinds of stages. Still a choreographer and occasional dance teacher, her singing and rapping skills has always been her main focus which has allowed her to be involved with projects, bands and great performances.
In 2006 Onesty stepped up to her calling, her unique sound, with that warm and soulful presence, meant that there was always going to be a place for her as a female European artist to look out for. Her songs are a mixture of Reggae, Soul and R&B with all the special touch you could only find in her music.
Onesty has performed live with Ashamband, a young upcoming Belgian reggae band. Since 2007 she has come together with her own musicians and has been touring Belgium, with additional shows in other parts of Europe to a well received audience and promoters who have welcomed her new fresh sound. Onesty has had the pleasure of opening concerts for international artist such as Max Romeo, Earl 16, Pressure, Blackmann, Red Rat, Tiken Jah Fakoly and many other Belgian bands with international fame like Leki …. The promo Cd "Take Your Time" is produced by Onesty and shows you the beginning of a rich musical evolution.
In 2008 Onesty stepped down on Jamaican soil to feel and join the original reggae force. The young singer is fortunate to work with guitarist producer, Rohan Gordon aka Maka Lox on the Selassie God label. Onesty recorded tracks with Maka Lox at Tuff Gong in Kingston with Horsemouth, the legendary drummer from "Rockers" time. The first song finished was "Is This Love" on a fresh Jamaican Riddim, the song got airplay on Irie FM the number 1 reggae radio station in Jamaica & worldwide.
Onesty has a real immersion in the roots and vibe of Reggae Music. She could work with and draw inspiration from artists such as Earl China Smith, Anthony B, Duane Stephenson, Bobby Digital etc.
She has had an eventful journey so far which has been the source of inspiration for a series of new songs which we can expect in 2013. 
She has now joined forces with Ajang Music Production, who are responsible for her career directions and productions. Onesty will be releasing songs off her album which will be due sometime in 2013. The first single being "Life Starts" was released on the 7th January 2013 by Digital Label Zojak Worldwide and can be found on iTunes. © 2013 Ajang Music. All Rights Reserved.

      
Live reviews
•  " We arrived a few minutes late, hoping that the concert was on "Jamaican time". But to our pleasant surprise, Black Uhuru was already on stage.
We hurried in and found a great space to watch the performance. It was my husband, my 3 year old son, and myself. The sound was great, bass was perfectly heavy. There was a great atmosphere on this cool evening in Lake Worth.
There were patrons of every age, as my son found a few other children to play with using their new light up swords and scepters. It was a moderately sized crowd considering Black Uhuru was the final act of the two day festival.
Even though we were interested in the performance only, there was an inordinate amount of food at the venue. No one could ever possibly go hungry.
And Black Uhuru delivered a great set which built up to hits "Solidarity" and "Guess who's coming to dinner". Led by original member Duckie Simpson, and vocals delivered by Andrew Bees and Kaye Starr, we thoroughly full-joyed the punky reggae sounds of the Grammy winners.
Nuff respect to the instrumentalists of the band, especially the guitar soloist, whose name I'm not familiar with. They gave great support to the vocalists. It was an A plus performance by Black Uhuru!  Blessings and love!"  By Nykhana 
•  " The inaugural winners of the Best Reggae album Grammy award Black Uhuru consisting of Derrick Simpson and Andrew Bees along with countless past members may have enjoyed the majority of their successes in the 80s yet they still continue to tour at a devoted pace. The Jamaican musicians have so much passion and belief for their music that you cannot imagine them stopping anytime soon as they continue to throw themselves into the performance night after night.
As the group has been recording albums throughout their long career, it is a tricky feat to choose a ten song setlist yet they play all the favorite including 'Push Push' and 'Bull In the Pen' to keep the audience grooving along. It is clear the crowds are excited and elated that the band has come to play as they are not frequent visitors to Europe so therefore they capitalize on this energy and really raise the roof for 'General Penitentiary'. The soulful reggae tones sound as good as ever and after saying gracious thank you's they close with a fun performance of 'I Love King Selassie'."  By Sean-Ward 
•  "This is my third time in the last year that I have seen the black uhuru, they never disappoint, the show was the shiznit, I enjoyed every minute of it, hope to see them again soon" By Javier


BLENDED ROOTZ Featuring Lopaka Rootz
Check out: facebook.com/lopakarootz/videos/397202891035664/