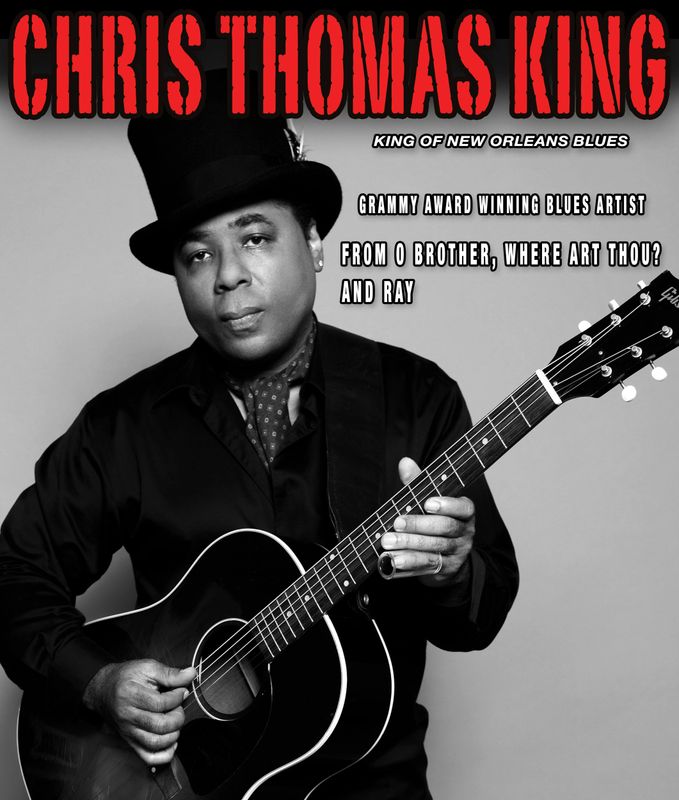 Blues Bear Hawaii is proud to announce that Chris Thomas King, a master practitioner of Traditional Delta Blues and Contemporary Blues will be performing in Hawaii June 6  Maui Arts & Cultural Center, McCoy Studio Theater - Maui and June 7 Anna O'Brien's - Oahu. He is touring behind his new release "Hotel Voodoo"
Recognized as a prodigy musician as a child, Chris turned pro while still in his teens.  His debut album was very much in a traditional blues vein, but he soon found himself on a mission to prevent the blues from becoming a museum piece, becoming the first bluesman to successfully fuse hip-hop and other genres to create a new Blues for the 21st Century.  
 Nevertheless, as fate would have it, King was chosen by the Coen brothers to play the role of itinerant bluesman Tommy Johnson along side George Clooney in the movie "O Brother, Where Art Thou? (2000)." 
Larger than life on the silver screen, Chris Thomas King, acoustic guitar in hand, captivated audiences the world over, silencing his critics. His authenticity as a folk blues artist, by any measure, proved to be undeniable. A star of stage and screen was born. New fans the world over packed sold out theaters and art centers to immerse themselves in his illuminating melodious glow. King sold millions of records and won numerous awards, superseding the success of his folk blues predecessors.
 He took a fresh re-approach to traditional blues, even recording an album of Tommy Johnson- and Robert Johnson-inspired originals.  Chris has continued to develop his second, very active career as actor and music composer or director, which has earned him a Grammy for the soundtrack of the Ray Charles biopic "Ray" as well as a role in the HBO series Treme.
 Chris spends much of his year touring the US, Europe, and Asia, but this will be his return tour of Hawaii.  Be sure to come check him out; he is indeed, The Real Deal!
check him out at: christhomasking.com
HOTEL VOODOO
by Chris Thomas King
 "Hotel Voodoo" is the first new studio album in five years from Grammy winning guitarist, songwriter, and actor, Chris Thomas King. "Hotel Voodoo" is a blues rock guitar tour de force on par with legendary greats Jimi Hendrix, Stevie Ray Vaughn, Eric Clapton and Buddy Guy. Chris Thomas King, an electric guitar virtuoso, based in New Orleans, is at the peak of his powers on rockers, "Have You Seen My Princess," "Voodoo Child (On Hell's Highway), and "Rock-and-Roll Conjurer."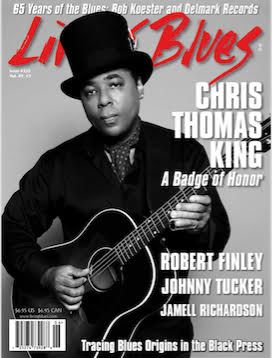 Tour Dates:
June 6, Thursday - Maui
Maui Arts & Cultural Center - McCoy Studio Theater Cap. 280
One Cameron Way  Kahului, Hi. 96732
Venue: 808-242-SHOW (7469)  Tickets:  $30. $45. $65. Reserved
Drs. 7:00 pm. Show: 7:30 pm.
June 7, Fri. - Oahu
The Club at Anna O'Brien's - Honolulu  Cap.
2440 S. Beretania St. / Honolulu, Hi. 96826 
Information:  808-946-5190  Tickets: $30. Adv.     
Drs. 7:30 pm. Show: 8:30 pm. w/ special guest Boogie
Ticket Outlets & Information: 
Online information, tickets and VIP: bluesbearhawaii.com or call: 808-896-4845
Maui: MACC Box Office 808-242- SHOW (7469) or mauiarts.org
Oahu:
bluesbearhawaii.com
  Anna O'Brien's - University, Good Guys Music - Kapahulu, Coconut Grove Music - Kailua
A Blues Bear Hawaii Production 
Keeping The Music Live
Concert Information Hot Line 808-896-4845