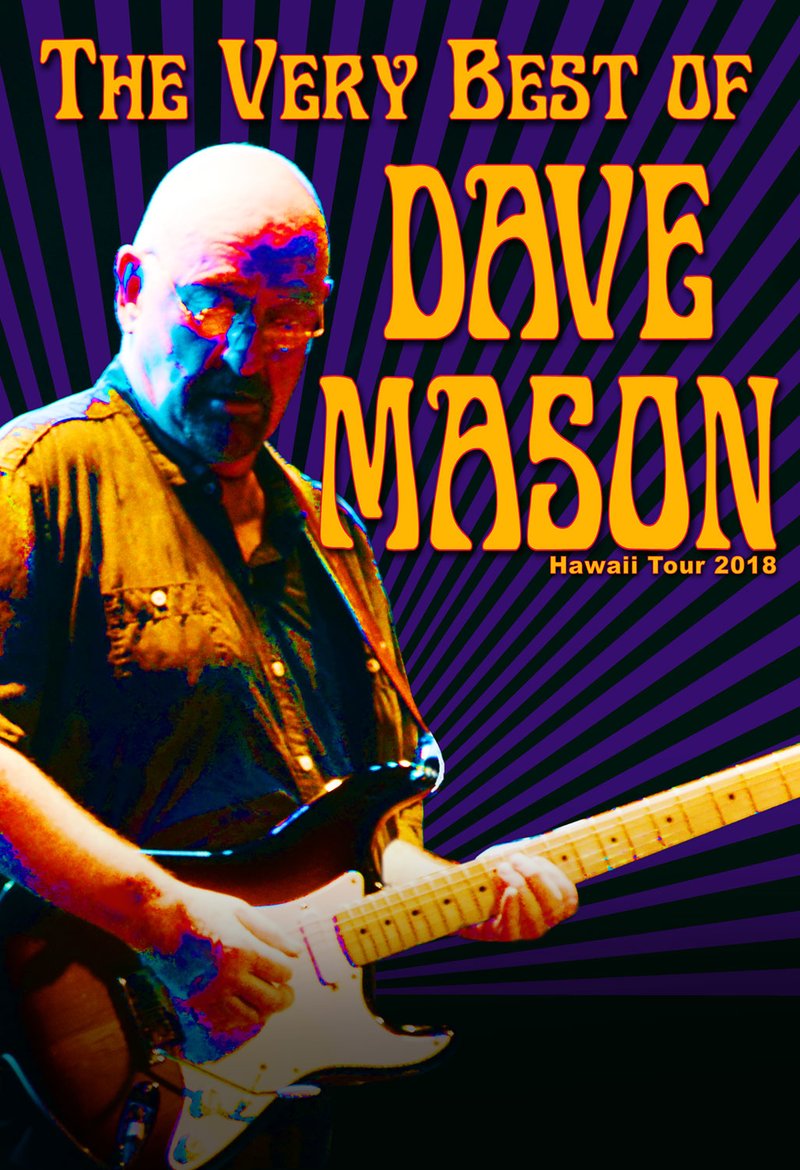 Blues Bear Hawaii is proud to announce that Dave Mason's "The Very Best of Dave Mason" tour will be coming to do four shows in Hawaii. Dave's 2018 shows will be based on his recently filmed concert for PBS which is part of the 'Infinity Hall Live' concert series (produced by CPTV).
Originally released in 1979, Dave Mason's "The Very Best of Dave Mason" is one of America's most beloved classic rock albums. The music has endured the decades because it is timeless. All ten songs are as satisfying and inspiring as they were 39 years ago.
You will not want to miss Rock and Roll Hall of Famer Dave Mason revisit this classic masterpiece to perform this limited engagement concert tour along with his band Johnne Sambataro, Alvino Bennett and Tony Patler.
The "The Very Best of Dave Mason" concert will include fan favorite songs like "Feelin' Alright", "Only You Know and I Know", "Shouldn't Have Took More Than You Gave" and others in addition to the entire classic album. Archival photos and firsthand autobiographical commentary will complement and enhance the guest experience of one of rock n roll history's most significant albums performed by one of the most legendary living classic rock artists.
There are a handful of songs in the lexicon of rock and roll that can be called anthems, and "Feelin' Alright " has repeatedly been crowned one of them. This simple two chord song has been on the lips and in the hearts of the world since its initial release in 1968. This American classic debuted on the cutting edge English rock band, Traffic's second album. It has become one of the most powerful and enduring tracks in all rock and roll history.
Dave Mason wrote "Feelin' Alright" at the young age of 19 while on vacation on the island of Hydra, Greece. As most great songs it was initially a love song. The song has been a hit single for performers like Joe Cocker, Grand Funk Railroad, Three Dog Night, The 5th. Dimension, Lou Rawls, Freddie King, and many others.
It is believed that "Feelin' Alright" is one of the most beloved rock n' roll songs of our time.

VIP Experience: Enjoy an experience of a lifetime! Go backstage before the show for a private meeting with the Legendary Dave Mason. For more information and to purchase your VIP Experience go to: bluesbearhawaii.com
Tour Dates:
Feb. 7, Wednesday - Big Island
The Honoka'a Peoples Theatre - Honoka'a
45-3574 Mamane St. Honoka'a, HI 96727
Information: 808-896-4845 ($45. Gen. Adm. SOLD OUT) - ($65. Gold Circle SOLD OUT)
Doors: 6:00 pm Show: 7:00 pm.
Feb. 8, Thursday - Oahu
Cross Roads at Hawaiian Brian's
1680 Kapiolani Blvd. 2nd. Floor Honolulu, Hi. 96814
Venue: 808-946-1343 Tickets: $45. Gen. - (Gold Circle $65. SOLD OUT)
Doors: 6:30 pm. Show: 7:30 pm.
Feb 9, Friday - Kauai
Kauai Beach Resort - Jasmine Ballroom
4331 Kauai Beach Rd. Lihue, Hi. 96766
Venue: 808-245-1955 Tickets: ($45. Gen. Adm. Sold Out) - (Gold Circle $65 SOLD OUT).
Doors: 6:30 pm. Show: 7:30 pm.
Feb. 10, Saturday - Maui
Maui Arts & Cultural Center - Castle Theater
One Cameron Way Kahului, Hi. 96732
Venue: 808-242-SHOW (7469) Tickets: $45. $55. $75. Reserved
Doors: 7:00 pm. Show: 7:30 pm.
Tickets Outlets & Information:
Online Info, Tickets & Gold Circle: bluesbearhawaii.com or call: 808-896-4845
Oahu: www.bluesbearhawaii.com (Gold Circle) Cross Roads at Hawaiian Brian's, Good Guys Music - Kapahulu, Coconut Grove Music - Kailua
Kauai: bluesbearhawaii.com (Gold Circle) Kauai Music & Sound - Kapaa; Hanalei Music & Strings - Hanalei; Progressive Expressions - Koloa; Scotty's Music - Lihue, Jacqueline On Kauai - Hanapepe
Maui: MACC Box Office 808-242- SHOW (7469) or mauiarts.org
Big Island: bluesbearhawaii.com (Gold Circle) Kona Music Exchange, Sound Wave Music - Kailua-Kona; Kiernan's Music - Old Town Kainaliu; Waimea General Store - Parker Square, Kamuela; Top Stitch - Honoka'a; CD Wizard, Hilo Ukuleles & Guitars, Hilo Music Exchange
A Blues Bear Hawaii Production
"Keeping The Music Live"
Concert Information Hot Line 808-896-4845
Follow us on Face Book: www.facebook.com/lazarbearproductions
BIO: The English singer-songwriter and guitarist from Worcester, first found fame with the rock band Traffic. Over his career, Mason has played, recorded and/or performed with many well known and notable musicians, including Paul McCartney, George Harrison, Eric Clapton, the Rolling Stones, Jimi Hendrix, David Crosby, Graham Nash, Michael Jackson, Steve Winwood, Fleetwood Mac, Leon Russell, Delaney Bramlett, Cass Elliot and, most recently, Derek Trucks and Susan Tedeschi, among others.
Mason was most recently one of the featured performers at the 'Tribute to Joe Cocker / Mad Dogs and Englishmen' event, curated and organized by Derek Trucks and Susan Tedeschi (featuring the 'Tedeschi Trucks Band' and former members of the original "Mad Dogs & Englishmen' tour), which was produced for and staged at the 2015 Lockn' Music Festival, in Arrington, Va.
One of Mason's most well known songs is "Feelin' Alright", recorded by Traffic in 1968 and later by many other performers, including Joe Cocker, who had a major hit with the song in 1969. Mason also wrote "Hole In My Shoe, for Traffic, which became a hit in its own right and he recorded "We Just Disagree", his 1977 solo US hit written by Jim Krueger, which has become a US radio playlist classic.

In 2004, Mason was inducted into the Rock and Roll Hall of Fame as a founding member of Traffic. For more: davemasonmusic.com