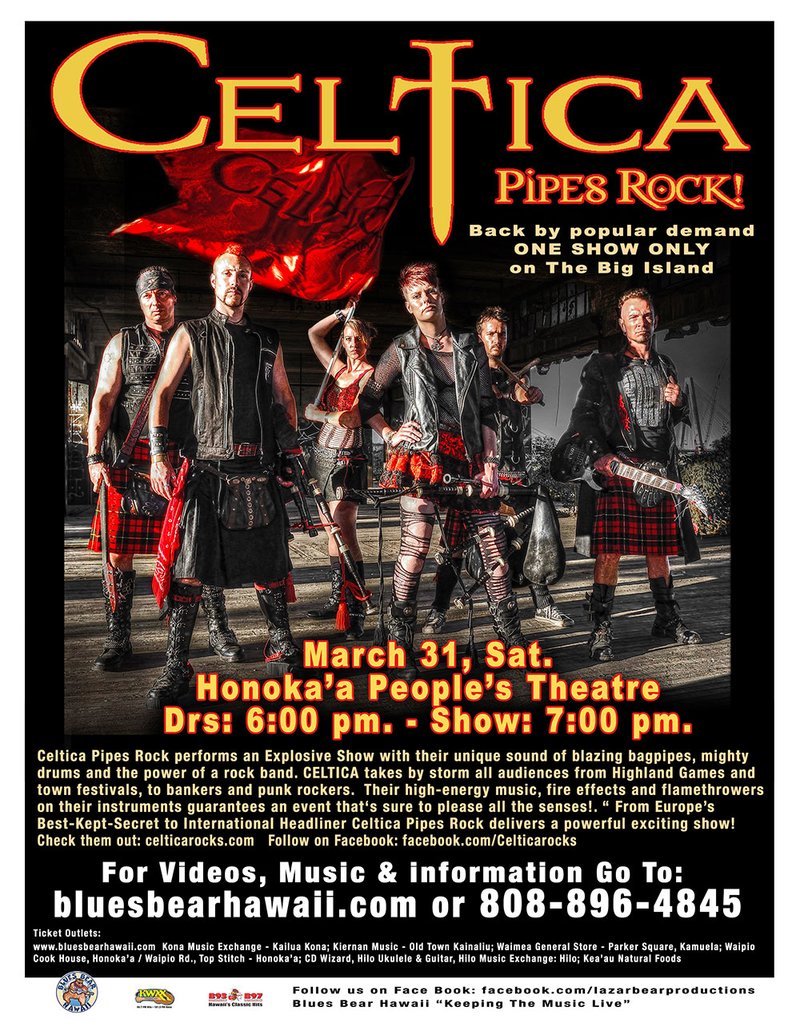 Blues Bear is proud to present Celtica Pipes Rock performing an Explosive Show with their unique sound of blazing bagpipes, mighty drums and the power of a rock band, CELTICA takes by storm all audiences from Highland Games and town festivals, to bankers and punk rockers. In addition to their high-energy music fire effects and flamethrowers on their instruments guarantee an exciting show: an event that's sure to please all the senses!. " From Europe's Best-Kept-Secret to International Headliner Professionalism and total commitment at every performance are the band's key to success: Right away Celtica got booked as headliner of the biggest Celtic/Scottish events in Central Europe; Since their 1st. US-Tour, Celtica has played over 200 shows in North America coming 10 times to the USA so far.

Check them out at: celticarocks.com Follow on Facebook: facebook.com/Celticarocks

Band Line Up:
Gajus Stappen (Vienna, Austria), electric Guitar & Drumming
Jane Espie, The Phantom Piper (Fife, Scotland/UK), Great Highland Bagpipe
Duncan Knight (Edinburgh, Scotland), Great Highland Bagpipe
Harald Weinkum (Phoenix, AZ/USA), Bass & Drumming
Matthias Katzmair (Linz, Austria), Drums.
Both our bagpipers are from Scotland and we provide a unique Celtic Rock experience, combined with (wherever possible and permitted) fire shooting instruments.
Big Island:
March 31, Sat. - Big Island
Honoka'a Peoples Theater
45-3574 Mamane St. Honkaa, Hi. 96727
Information: 808-896-4845 Tickets: $25.00 Early Bird Special
Doors: 6:30 pm. Show: 7:00 pm.
For Videos, Music & information Go To: bluesbearhawaii.com or 808-896-4845
Big Island Ticket Outlets: bluesbearhawaii.com Kona Music Exchange - Kailua Kona; Kiernan Music - Old Town Kainaliu; Waimea General Store - Parker Square, Kamuela; Waipio Cook House, Honoka'a / Waipio Rd., Top Stitch - Honoka'a; CD Wizard, Hilo Ukulele & Guitar, Hilo Music Exchange: Hilo; Kea'au Natural Foods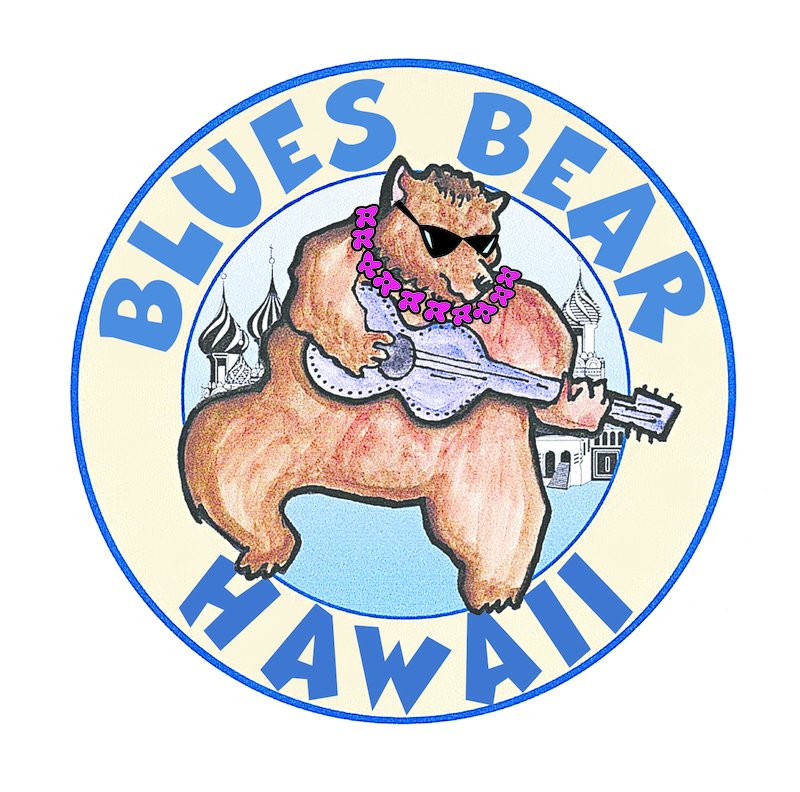 A BLUES BEAR HAWAII PRODUCTION
"Keeping The Music Live"
Concert Information Hot Line 808-896-4845
Follow us on Face Book: facebook.com/lazarbearproductions