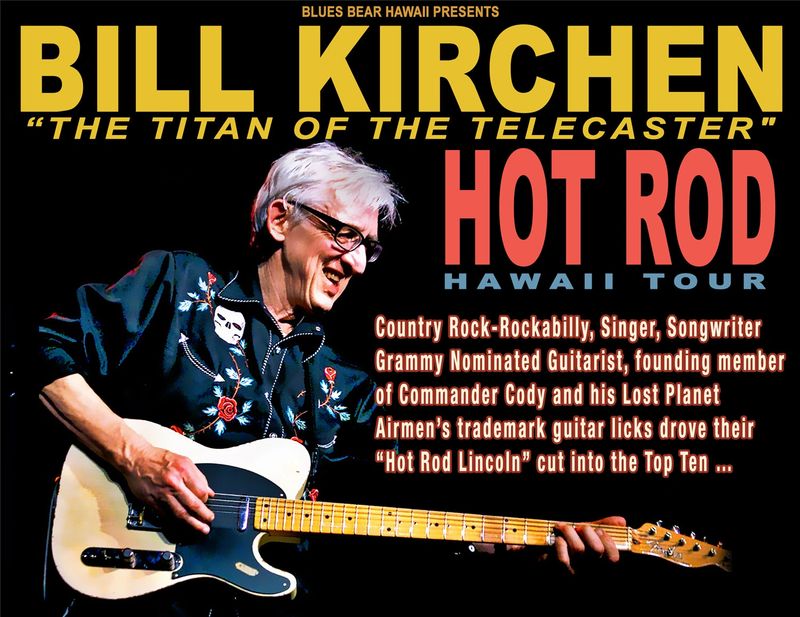 Blues Bear is proud to present "The Titan of The Telecaster" Bill Kirchen - Country Rock - Rockabilly, Singer, Songwriter Grammy Nominated Guitarist. Bill performed and wrote many great songs playing with Commander Cody and His Lost Planet Airmen from 1967 to the mid-1970s. "To Much Fun", "Mama Hated Diesels" are just few of his killer repertoire along with his signature version of "Hot Rod Lincoln". Bill will be touring as a trio with Cody's drummer, Steve Barbuto and Tim Eschliman, on bass. 
Grammy nominated guitarist, singer and songwriter Bill Kirchen first gained national recognition as a founding member of Commander Cody and his Lost Planet Airmen. His trademark guitar licks drove their Hot Rod Lincoln cut into the Top Ten in 1972. He has released ten CDs on his own, and recorded and/or played guitar live with a who's who of Americana and Roots Rock 'N' Roll, among them Gene Vincent, Link Wray, Bo Diddley, Hazel Dickens, Doug Sahm, Hoyt Axton, Emmylou Harris, Maria Muldaur, Dan Hicks, Nick Lowe and Elvis Costello.
Notable Quotes: 
 "I think he's great … You should hear him on the new [Nick Lowe] album."  
- Johnny Cash:
 "Opening night was particularly special due to the presence of Les Paul and Albert Lee, ... Bill Kirchen cranked up his Tele for a set that gave the crowd a hotfoot, sparked by his epic cover of "Hot Rod Lincoln". Danny Gatton Tribute, Tramps, New York, NY"
- Rolling Stone
 "Like an impassioned preacher in a souped-up convertible, Kirchen described passing Muddy Waters, Link Wray, Merle Haggard, B. B. King, Carl Perkins, Jimi Hendrix and more, nodding in tribute to each one with a perfect guitar quotation as he drove by. … Bill Kirchen took everyone for the ride of their lives in his Hot Rod Lincoln." 
-Washington City Paper
 "...a knockout ... package of great tracks from one of the greatest guitar players of our time." 
- 3rd Coast Music on King of Dieselbilly CD
 "Bill Kirchen rules. It's just that simple … " - Austin American-Statesman
Bill Kirchen Bio:
Grammy nominated guitarist, singer and songwriter Bill Kirchen is one of the fortunate few who can step on any stage, play those trademark licks which drove the seminal Commander Cody classic Hot Rod Lincoln into the Top Ten nationwide, and elicit instant recognition. Named a "Titan of the Telecaster" by Guitar Player Magazine, he celebrates a musical tradition that embraces rock 'n' roll, blues and bluegrass, Texas Western swing and California honkytonk. Nick Lowe describes Bill as "... a devastating culmination of the elegant and funky… a really sensational musician, with enormous depth." 
Bill received his Grammy nomination in 2001. A winner of multiple Wammies over the years, in 2002 he was one of three artists inducted into the Washington D.C. Area Music Association Hall of Fame along with Dave Grohl (Nirvana, Foo Fighters) and John Philip Sousa. 
Bill is an architect of what is now known as Roots Rock 'n' Roll and Americana, and still continues to be one of its most active proponents, playing, writing and performing throughout the world. 

In demand on the lecture circuit, he has spoken at the Smithsonian Institution in Washington, DC as part of the "Electrified, Amplified and Deified - The Electric Guitar" exhibition and at Rensselaer Polytechnic Institute in Troy, New York. He was interviewed on the national TV special "Yesterday and Today: Honky Tonk & Western Swing" at the Broken Spoke in Austin, TX, where he performed along with Hank Thompson, Doug Sahm, Don Walser and more. Bill was a keynote speaker at the International Conference on Elvis Presley in Memphis and currently finds time to lead workshops and instruct at Jorma Kaukonen's Fur Peace Ranch and the Augusta Heritage Center. 

Justly famous for his indelible Telecaster sound, Bill Kirchen has been everywhere over the span of a 40-plus-year career: he was a founding member of the legendary Commander Cody and his Lost Planet Airmen; he released eight critically acclaimed solo albums; he toured internationally with Nick Lowe and has performed with Doug Sahm, Gene Vincent, Elvis Costello, Dan Hicks, Emmylou Harris, Bruce Hornsby and Link Wray. 

Artist Website: www.billkirchen.com 
Tour dates:
March 28, Thurs. - Maui
Maui Arts & Cultural Center - McCoy Studio Theater 
One Cameron Way  Kahului,  HI 96732
Venue: 808-245-7469 or 808-896-4845  $38. $45. $60. Reserved
Doors: 7:00 pm    Show: 7:30 pm
March 29, Fri. - Oahu
The Club at Anna O'Brien's 
2440 S. Beretania St. / Honolulu, Hi. 96826
Information:  808-946-5190  Tickets: $40. Adv.    
Doors: 7:00 pm  Show: 8:30 pm. 
March 30, Sat. - Big Island 
The Honoka'a Peoples Theatre
45-3574 Mamane St. Honoka'a, HI 96727
Tickets: $40. Gen. Adm.  $55. Gold Circle
Doors: 6:00 pm. Show: 7:00 pm. 
March 31, Sun. - Kailua - Kona
Gertrude's Jazz Bar 
75-5699 Alii Dr. Kailua-Kona, Hi. 96740
Info: 808-896-4845 Venue: 808-327-5299 
Tickets: $40. Gen. Adm. Adv.  
Show: 7:00 pm. 
Ticket Outlets & Information: 
Online information, tickets and VIP: www.bluesbearhawaii.com or call: 808-896-4845
Maui: MACC Box Office 808-242- SHOW (7469) or mauiarts.org

Oahu: bluesbearhawaii.com  Anna O'Brien's - University, Good Guys Music - Kapahulu, Coconut Grove Music - Kailua, CR Stones -Mookaula
Big Island: bluesbearhawaii.com Hilo Ukulele & Guitars, Hilo Music Exchange - Hilo; Rogers Guitars - Kea'au; Kona Music Exchange; Gertrude's Jazz Bar - Kailua-Kona; Kiernan's Music - Old Town Kainaliu; Waimea General Store - Parker Square, Kamuela; Top Stitch - Honoka'a;  
A Blues Bear Hawaii Production 
Keeping The Music Live
Concert Information Hot Line 808-896-4845
New Album:
Bill Kirchen and Austin de Lone team up for a hands-across-the-Atlantic collection with their new studio album, Transatlanticana, out on August 26, 2016 on Red House Records. This long-overdue release unites the pioneers of two major musical movements: Kirchen co-founded the original "Americana" band, Commander Cody and his Lost Planet Airmen, and his trademark Telecaster licks drove their hit "Hot Rod Lincoln" into the Top 10 in 1972. De Lone dropped out of Harvard to start Eggs Over Easy, moving to London and recording with Jimi Hendrix's producer/manager and The Animals' bass player Chas Chandler in 1970. The Eggs are the progenitors of British pub rock, the first link in the chain to punk rock, new wave and beyond. Backed by both their all-star British and American bands, Transatlanticana finds Kirchen and de Lone trading songwriting credits and lead vocals on this soulful and rocking collection.