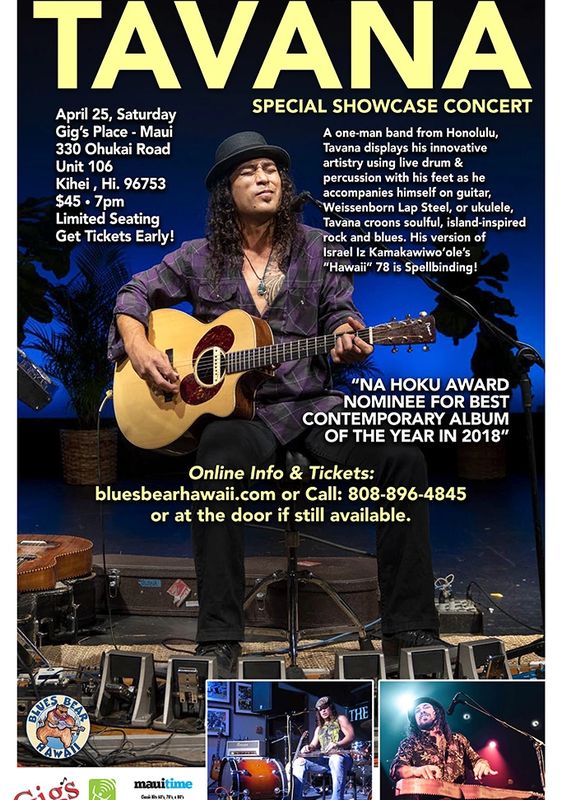 Special Showcase Concert w/ TAVANA
An intimate evening of great music Island Style! Show starts at 7pm. at Gig's Place - Kihei / Maui
Tavana's blend of singer/songwriter, acoustic-blues-rock-roots music has been captivating audiences throughout the Hawaiian island chain and east to the mainland where he's made two appearances at the high-profile musical showcase South by Southwest in Austin, Tx. (SXSW 2010 & 2011). Tavana is a multi-instrumentalist from Honolulu, HI who uses live drum & percussion to lay down a variety of grooves with his feet while simultaneously playing Guitar, Weissenborn Lap Steel, Ukulele or Banjo, and singing soulful, island-inspired Rock and Blues. His 4th album - "Aloha Spirit" - was a Na Hoku Hanohano Award Nominee for Best Contemporary Album of the Year in 2018. His version of Israel Iz Kamakawiwoʻole's "Hawaii" 78 is Spellbinding!  Tavana's unique performances have also garnered the attention of Eddie Vedder, beloved front-man for the legendary rock band Pearl Jam. Eddie invited Tavana to perform the Hana Hou for his 2-Night Sold-Out Solo Performance Concerts at The Hawaii Theater in July 2009. Tavana is coming to Gig's Place Maui for a limited engagement. 

Check Him Out:
---
Videos:
Maui Songwriters Festival presented by BMI

YouTube Channel Launch!
Tavana - Island Days ( HiSessions.com Acoustic Live! )
Tavana "Humans Have a Chance"
Tavana - Hawai'i '78 ( HiSessions.com Acoustic Live! )
Tavana - Hawai'i '78 ( HiSessions.com Acoustic Live! )
---
Tour Dates:
April 25, Saturday - Gig's Place - Maui

330 Ohukai Road - Unit 106 - Kihei , Hi. 96753

Information: 808-896-4845  $45  
Doors: 6:00 pm - Show:  7:00 - 9:00 pm 
Ticket & Information:
Online Info, Tickets and Gold Circle: www.bluesbearhawaii.com or Call: 808-896-4845
A Blues Bear Hawaii Production

"Keeping The Music Live"
Concert Information Hot Line 808-896-4845