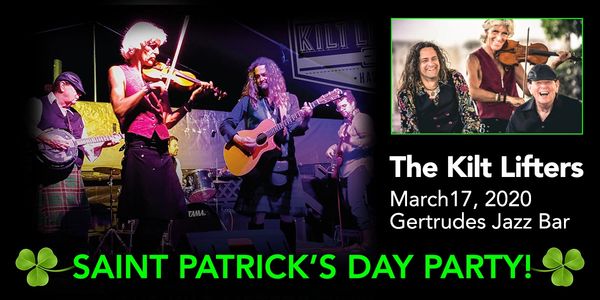 Blues Bear Hawaii is proud to announce that The Kilt Lifters will be performing a special Saint Patrick's Day Show at Gertrudes Jazz Bar on March 17, for a festive

Saint Patricks Day Party complete with Irish Dancers. The Kilt Lifters - A bit of the Emerald Isles on the Hawaiian Isles! The Kilt Lifters celebrate our island nations with their eclectic and electric Celtic rock sound. With rocked out traditional and original tunes, paired with beautiful classic ballads, The Kilt Lifters bring a modern twist to the Celtic music we all love.The Kilt Lifters feature the inspired musical arrangements of Chris Carr on guitar, flute, and lead vocals, with crowd pleaser, Don Lax and Sam Woldenberg gives us the heartbeat with his amazing percussion work.
The band members are Chris Carr - Vocals, Guitar, Flute - At the tender age of 12 years old Chris received a hand-me-down Washburn electric guitar from his older brother and thus began a life long love affair. Already a student of music, playing flute and singing in choir, Chris' primary instrument quickly became the guitar. Chris has spent most of his lifetime studying guitar and music, pulling from an incredible variety of inspirations which have culminated into his unique progressive folk sound. From the Big Island of Hawaii, Chris pursues his musical passions from his home recording studio, from the Lanai, from the beach or wherever the Island takes him. Instruments include: Guitar, Bass Guitar, Flute, Piccolo, Cow Bell, Piano, Hand Percussion. Jeffery O'Casey - Bass, Guitar, Banjo - Long-time player Jeffery O'Casey brings his musical talents to The Kilt Lifters. Not only is Jeff a tremendous player on a variety of instruments, he is also an accomplished singer/songwriter. Sam Woldenberg - Percussion - Percussionist extraordinaire and overall musical prodigy, Sam holds a bachelors degree in music theory and plays piano, drums, bass and guitar. Sam currently runs his own recording studio in Ohio and has several other music projects ongoing. Sam makes it back out to Hawaii to perform and for album recording. Get your tickets early as this event will probably sell out.
Videos:

Here is a compilation video from a while ago.
https://www.youtube.com/watch?v=auAlZrpILww
Here is our most recent official music video that was featured by Irish Music Magazine.
https://www.youtube.com/watch?v=geViSFFyNzs
Here is a link to our youtube channel, which includes quite a bit of live footage, including some of our numbers with Irish Dance.
https://www.youtube.com/channel/UC-3kpgW3UYEBQ1ooqrmaBZg
Saint Patrick's Day Show:

March 17, Fri. - Kailua - Kona
Gertrude's Jazz Bar
75-5699 Alii Dr. Kailua-Kona, Hi. 96740
Info: 808-896-4845 Venue: 808-327-5299
Tickets: $15. Gen. Adm. Adv.
Show: 7:00 pm.
Ticket & Information:
Online Info, Tickets and Gold Circle: www.bluesbearhawaii.com
or Call: 808-896-4845
Big Island Ticket Outlets:
Advance Tickets Available Online, Gertrudes or at door Night Of Show
A Blues Bear Hawaii Production
"Keeping The Music Live"
Concert Information Hot Line 808-896-4845