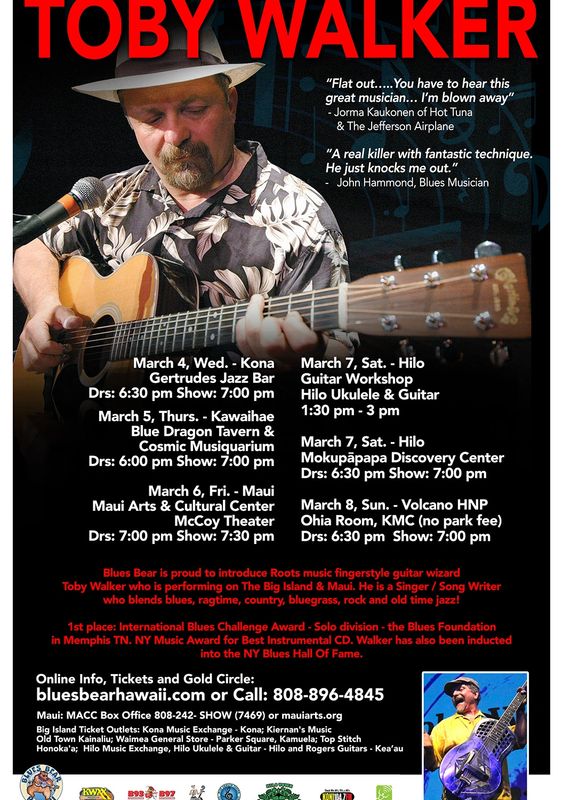 Lazar Bear is proud to announce that Toby Walker, one of the most extraordinary fingerstyle guitarists performing before the public today will be playing a two island tour in Hawaii.
Internationally and nationally acclaimed Toby Walker has been hailed as an award winning, roots music fingerstyle guitar virtuoso and songwriter who has toured the US, United Kingdom, and Europe. Blending the styles of blues, ragtime, country, bluegrass, old-time jazz and rock, Walker has his own style and as such received numerous awards, including being the 1st place recipient of the International Blues Challenge Award in Memphis and the NY Music Award for best instrumental CD. Walker has also been inducted into the NY Blues Hall Of Fame. 
Walker is a nationally recognized guitar instructor, having taught at Jorma Kaukonen's Fur Peace Ranch, Woody Mann's Guitar Seminars, The Swanannoa Gathering, and the National Guitar Workshop. Walker also has eight instructional DVD's on Happy Traum's Homespun Music Instruction, and has produced hundreds of instructional videos on his own.
Toby's passion for blues, rags, folk, and other traditional American music drove him to leave an apartment crammed full of recordings, books and instruments for the Mississippi Delta, Virginia and the Carolinas where he tracked down some of the more obscure - but immensely talented - music makers of an earlier era. He learned directly from Eugene Powell, James "Son" Thomas, Etta Baker and R.L. Burnside, among others..
Check Him Out: littletobywalker.com and facebook: tobywalkerblues
---
Videos:

littletobywalker.com/concertvideos
1- I Know You Rider

2- Ride This Train

3- Sweet Georgia Brown at the Fur Peace Rance

4- Whiskey Store - Minstrel Concert
You will find ten videos here and there are a few more:
littletobywalker.com/recent-concert-videos
1- Cannonball Rag' - my interpretation of the Merle Travis tune

2- 'Love Me One More Time' - a slow blues

3- My version of 'Embryonic Journey' by Jorma Kaukonen

 Two numbers on my National Tri-Cone.

4- My version of 'Traveling Riverside Blues' by Robert Johnson.

5- 'Bernie's Blues' - Toby Walker and John Sposato.

6- 'Traveling With Charley' - Toby Walker

7- 'Roll The Dice' - Toby Walker.

8- 'Irish Fiddle Medley' - arranged by Toby Walker

9- 'Texas Man' - Toby Walker

10- The final two songs of the evening:

My version of 'Nobody's Fault But Mine' and the encore: 'Rock Me Baby.'
---
Hawaii Tour Dates:
March 4, Weds. - Kona
Gertrudes Jazz Bar
75-5699 Alii Dr. Kailua-Kona, Hi. 96740 808-327-5299
Information: 808-896-4845 $20 Gen. Adm.
Doors: 6:30pm Show: 7:00pm
March 5, Thurs. - Kawaihae
Blue Dragon Tavern & Cosmic Musiquarium - Kawaihae
61-3616 Kawaihae Road, Kawaihae , Hi 96743
Information: 808-822-7771  $18 
Doors: 6:00pm  Show: 7:00pm
March 6, Fri. - Maui
Maui Arts & Cultural Center - McCoy Theater
Venue: 808-242-SHOW (7469) Tickets:  $38  $48  Reserved
Doors: 7:00pm Show: 7:30pm
March 7, Sat. - Hilo
Hilo Ukulele & Guitar
56 Ponahawai St. Hilo, Hi. 96720
Venue: 808-333-5450
Info. 808-896-4845
Guitar Workshop (1.5 hrs.) with Toby Walker
Cost: $45 
1:30pm - 3pm
Note: must be booked in adv. at bluesbearhawaii.com 
March 7, Sat. - Hilo
Mokupāpapa Discovery Center 
76 Kamehameha Ave.  Hilo, Hi. 96720
Info: 808-896-4845  Venue: 808-498-4709 Tickets: $23 Adv.   
Doors: 6:30pm  Show: 7:00pm
The Mokupāpapa Discovery Center in the Historic Koehnen Building on Hilo Bayfront is the premier visitor center for Papahānaumokuākea Marine National Monument. A $3. Restoration Fee-is added to each ticket to maintain & operate our non-Profit center.

March 8, Sun. - Volcano, Big Island
Ohia Room
KMC - Volcanoes National Park  Volcano, Hi. 96785 (No National Park Fee)
Info. 808-896-4845  Venue:  808-967-8335 
Information: 808-896-4845  Tickets $20 Gen. Adm. Adv.  $35 Gold Circle
Doors: 6:30pm  Show: 7:00pm

Ticket & Information:
Online Info, Tickets and Gold Circle: www.bluesbearhawaii.com or Call: 808-896-4845
Big Island Ticket Outlets:
Advance Tickets Available Online, Blue Dragon Tavern, Gertrudes and Mokupāpapa Discovery Center or at door Night of Show Big Island: Gertrudes Jazz Bar - Kona; Kiernan's Music - Old Town Kainaliu; Blue Dragon Tavern - Kawaihae; Waimea General Store - Parker Square, Kamuela; Top Stitch - Honoka'a; Mokupāpapa Discovery Center, Hilo Guitars, Hilo Music Exchange, Hilo and Rogers Guitars- Kea'au
Maui:
MACC Box Office 808-242-SHOW (7469) or www.mauiarts.org
A Blues Bear Hawaii Production
"Keeping The Music Live"
Concert Information Hot Line 808-896-4845
www.bluesbearhawaii.com
---

Press Quotes:

"If he doesn't get them with his phenomenal guitar playing or catchy songs, he gets them with his wonderful stories. True entertainers have an engaing spirit that puts a smile on your face. Arlo Guthrie has it. David Bromberg has it. And so does Toby."
– John Platt - WFUV
"Flat out... you have to hear this great musician... I'm blown away."
– Jorma Kaukonen of Hot Tuna and the Jefferson Airplane
"A real killer with fantastic technique. He just knocks me out."
– John Hammond, blues musician
"As a blues guitar player, I am stunned and in awe of Toby Walker's pickin'! Not only does he master diverse blues styles, but plays them with both flash and depth. That's the advanced class -- few players can do both. Add to that his fine songs and singing and friendly presentation, and it's obvious that Toby Walker is one of the most enjoyable artists in today's Blues World."
– Steady Rollin' Bob Margolin, blues musician