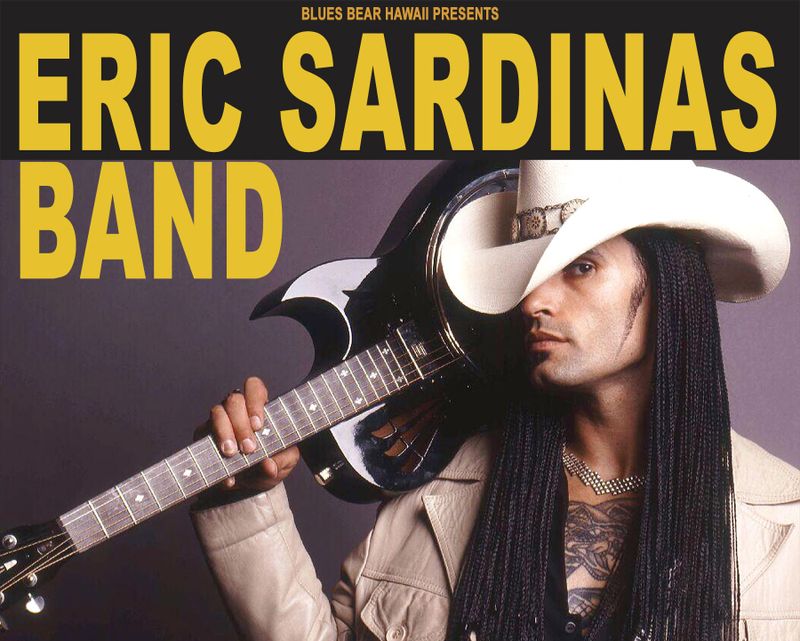 Blues Bear is proud to announce that Legendary Slide Blues Rock Guitar Wiz Eric Sardinas will be touring Hawaii as the Eric Sardinas Band with mates Chris Smith on Bass & Demie Solaria Drums in February 2019.  
The Hawaii Tour will kick off Feb. 21 on Oahu at Anna O'Brien's and  then on Feb. 22 on Maui at The Maui Arts & Cultural Ctr. McCoy Studio Theater, from there we head to the Big Island with the support of B97 in Honoka'a Town on Sat. Feb. 23 at The Honoka'a Peoples Theater and rapping it up on Sun. Feb. 24 at The Hilo Town Tavern for a joint jumping dance party. Tune in to the supporting Radio Stations for VIP/ Meet & Greet / Dinner / Show Promotions.
I Think These Quotes about Eric Pretty Much Sums It Up!
- "Eric Sardinas is revolutionary. He plays the dobro like the devil plays your mind. His
intensity will possess your very soul" 
- Steve Vai, Guitar God
- "When I saw him play he scared me, and all I could say was, "He's a bad, 
bad man" 
- Magic Dick, J. Geils Band
- Eric Sardinas' slide guitar burns with fiery intensity and relentless drive. One of the hottest blues guitarists on the scene today.
- Andy Aledort, Guitar World
- Resonator/slide specialist Eric Sardinas is no blues curator. While he pays homage tothe music that inspires him, Sardinas is a fiery super nova that performs with a personalized blend of soulful musicality and showmanship. He and his band, Big Motor, unleash high-intensity blues-rock with an earthy accessibility and raw power driven by his resonator.
- Oscar Jordan, Vintage Guitar Magazine 
- "I grew up playing acoustics, and when I went electric I gravitated toward hollow-bodies, but they never felt like my instrument," says Sardinas. "I wanted more of an acoustic feel and fell in love with the resonator as soon as I tried one." 
- Guitar World Magazine  
- "Wild man." Those two succinct words are perfect to describe the Florida born, Los Angeles resident Eric Sardinas and his band Big Motor, especially during incendiary (literally) live performances. Also, perfectly describing are "guitar pyrotechnics," "party hard," and "stadium-suitable."
- Blues Blast Magazine
Tour Dates:
Feb. 21, Thursday - Oahu
The Club at Anna O'Brien's 
2440 S. Beretania St. / Honolulu, Hi. 96826
Information:  808-946-5190  Tickets: $35.     


Doors: 7:00 pm  Show: 8:30 pm. 
Feb. 22, Friday - Maui  
Maui Arts & Cultural Center - McCoy Studio Theater 
One Cameron Way  Kahului,  HI 96732
Venue: 808-245- 8352 or 808-896-4845  $45.  $60. Reserved


Doors: 7:00 pm    Show: 7:30 pm
Feb. 23, Saturday - Big Island 
Honoka'a Peoples Theater, 45-3574 Mamane St. - Honoka'a 96727 
Venue: 808-775-9963 $35. Gen.  $55. Gold Circle


Doors: 6:00 pm    Show: 7:00 pm. 
Feb. 24, Sunday - Big Island 
Hilo Town Tavern, 168 Keawe St. - Hilo 96720 
Venue: 808-935-2171 $30. Gen. Adm.  $55. Gold Circle Limited Seating Close to Stage


Doors: 6:30 pm    Show: 7:00 pm. 
Ticket Information: 
Online information, tickets and Gold Circle: bluesbearhawaii.com or call: 808-896-4845
Oahu: bluesbearhawaii.com  Anna O'Brien's, Good Guys Music - Kapahulu, Coconut Grove Music - Kailua

Maui: MACC Box Office 808-242-SHOW (7469) or mauiarts.org
Big Island: bluesbearhawaii.com  Kona Music Exchange - Kailua-Kona; Kiernan's Music - Old Town Kainaliu; Waimea General Store - Parker Square, Kamuela; Top Stitch - Honoka'a; Hilo Town Tavern, Hilo Ukuleles & Guitars, Hilo Music Exchange - Hilo; Rogers Guitars, Kea'au,
A Blues Bear Hawaii Production 
"Keeping The Music Live"
Concert Information Hot Line 808-896-4845
   Follow us on Face Book:  www.facebook.com/lazarbearproductions  
Artist Biography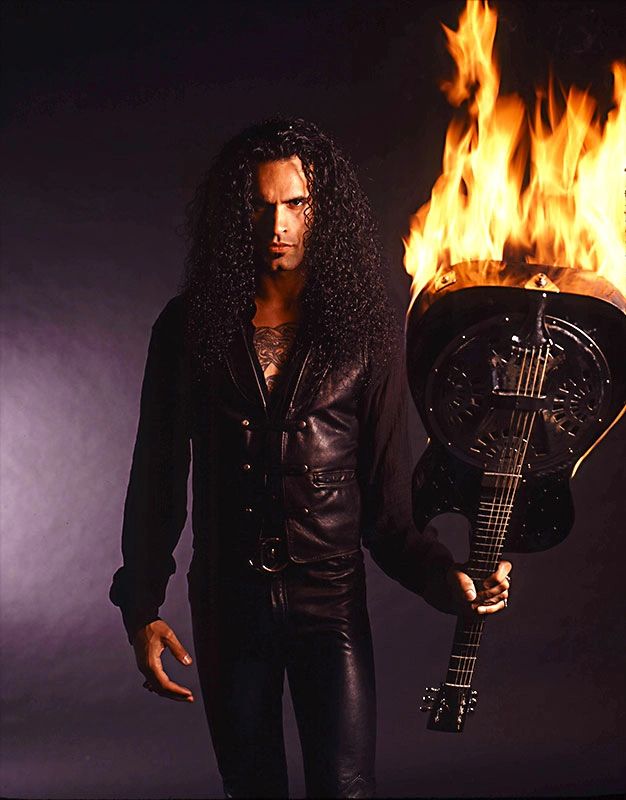 Slide guitarist and singer-songwriter Eric Sardinas has a reputation for packing intensity into his live performances.  Since the late-90s' Sardinas has taken the stage thousands of times across the globe, with audiences growing exponentially each passing year. His six albums have displayed a distinct style that musically pushes the boundaries of rock and blues, and the world has taken notice.  A Florida-born Sardinas picked up a guitar at age six. He was inspired by the energy of roots music from his mom's soul, Motown, gospel, and early rock n' roll collection. From his elder brother, classic rock was always being played. Sardinas reflects, "Music was always heard in the house. I woke up to, and fell asleep to it. Still do". In his teens, he submersed himself in the Blues. "That was it for me," he says. "In blending my influences, I found my own sound. I feel very fulfilled being able to make this music my life for more than 20 years now. And my goal is to keep growing and improving, and to respect this music and stick by it the way its has supported and inspired me." Website: www.ericsardinas.co.uk
And More: The term "blues-rock" brings with it a connotation of a blues artist "selling out" in order to make more money or a rock band blaring heavy riffs with a thinly veiled strain of blues. A worse offense is that many of these rock artists have little or no knowledge of the blues in its historical context or its mythological roots.
That is certainly not true in the case of Eric Sardinas.  At six, his first love was Delta blues, as it "was the thrill of hearing one person playing the guitar and generating the energy of five - I loved the sheer strength and heart of a single player." Just as unusual was citing his first influences as Barbecue Bob, Charley Patton and Bukka White, then Elmore James, Muddy Waters and Big Bill Broonzy.  He exclusively concentrates on slide guitar, employing his cherished Dobros, some that are customized to play by Edison's power. Sardinas listens to 78s, then couples these influences with modern sounds.
He moved around the country, landing in Los Angeles in 1990. Like the early blues folk, he played acoustic for a living on the street, then formed the Eric Sardinas Project (ESP) by hooking up with bassist Paul Loranger at a jam session. Loranger had the ideal sound that Sardinas wanted, a bassist who had exceptional playing ability on upright and electric and could work the upright in a blues-rock context. Two years later, drummer Scott Palacios joined them. It took ESP six years of experience of performing nearly 300 shows annually, playing from acoustic gigs in coffeehouses to sharing the bill with rock bands at Hollywood clubs. Musical-instrument companies sent them gigging at showcase concerts, which led the band to a gig as the opening act for a West Coast swing of a Johnny Winter's tour. Word got around, receiving the attention of Evidence Records. Blues discoverer Dick Shurman produced Sardinas' 1999 debut, Treat Me Right.  In 2000, Sardinas released a three-song single spotlighting his burning take on J>B> Hutto's "Angel Face." Devil's Train, his second full-length album, followed in 2001 and featured more of Sardinas' trademark blues-rock. 
 - Biography by Char Ham