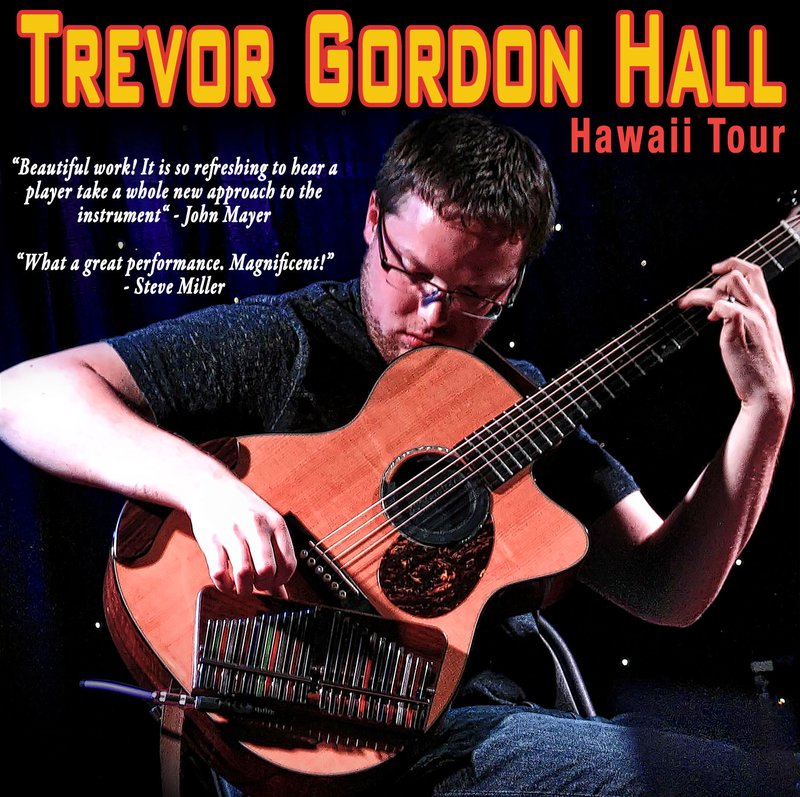 Blues Bear Hawaii is proud to announce that Guitar Virtuoso Trevor Gordon Hall is coming to Hawaii for his debut concerts in the islands. Trevor Gordon Hall is a powerful emerging voice, albeit without words to his music, showing that honest heart felt composition combined with technical virtuosity do not sideline an artist in today's world but can provide them with a wider reach than ever before.  
With an exploding presence on streaming services like Spotify, YouTube,etc, a touring calendar that has taken him to 14 countries and counting, it's safe to say that this is a new era for artists like Trevor to engage listeners from all cultures, languages, genres, and backgrounds. 
Rated one of the top 30 guitarists in the world under 30 years of age by Acoustic Guitar magazine, Trevor is an instrumentalist from Philadelphia USA whose style ranges from edgy driving rhythms to delicate melodic themes. Exploring the guitar's full creative potential, his blending of sounds weave together textures into grand yet intimate and lyrical compositions. While leaving no physical aspect of the guitar untouched, Trevor navigates audiences through an igniting experience of music that isn't just heard but felt. 
Aside from being featured on NPR, NBC, PBS and countless international media outlets, Trevor has performed in many historic places including Carnegie Hall in NYC, Union Chapel in London, Music History Museum in Bologna, Adolfo Mejia Theater in Colombia, and a brief performance on The Great Wall in China. He has also had the opportunity to share the stage with some of the most trusted and legendary names in the music business prompting high praise from John Mayer, Steve Miller, Graham Nash, Steve Hackett, Dar Williams, Will Ackerman, Pat Martino, Stanley Jordan, Phil Keaggy, Tommy Emmanuel, Andy McKee and more.
"Beautiful work! It is so refreshing to hear a player take a whole new approach to the instrument" - John Mayer
"What a great performance. Magnificent!" - Steve Miller
Show Dates:
Sept. 5, Weds. - Maui
Maui Arts & Cultural Center - McCoy Theater 
Venue: 808-242-SHOW (7469) Tickets:  $42. $56. Reserved 
Doors: 7:00 pm. Show: 7:30 pm.
Sept. 6, Thurs. - Oahu
The Club at Anna O'Brien's - Honolulu
2440 S. Beretania St. / Honolulu, Hi. 96826
Info:  808-946-5190  Tickets: $30. Adv.
Doors: 7:00 pm  Show: 8:30 pm. 
Sept. 7, Fri. - Kona
Gertrude's Jazz Bar (Dinner Reservations Recommended)
75-5699 Alii Dr. Kailua-Kona, Hi. 96740
Info: 808-896-4845 Venue: 808-327-5299 Tickets: $35. Adv.
Doors: 5:00 pm    2 Shows: 6:00 pm. and 8:30 pm.
Sept. 8 Sat. - Big Island Kohala Coast
Hapuna Prince Hotel / Kamani Room
62-100 Kauna'oa Drive  Kohala Coast - Kamuela,  Hi. 96743 
Info: 808-896-4845 Tickets: $35. Gen. Adm. Adv. $48. Gold Circle 
Doors: 6:30 pm. Show: 7:00 pm.
Guitar Workshop (1.5 hrs.) w/ Trevor Gordon Hall 
Cost: $75. 
1:30 pm. - 3 pm. 
Note: must be booked in adv. at bluesbearhawaii.com 
Sept. 9 Sun - Big Island Hilo
Kukuau Studio 
43 D Kukuau St. Hilo, Hi. 96720
Info: 808-896-4845 Venue: 808-464-3388 Tickets: $30. Adv.  
Doors: 6:00 pm  Show: 7:00 pm.
Tickets Outlets & Information:
Online Info, Tickets: bluesbearhawaii.com or call: 808-896-4845
Maui: MACC Box Office 808-242- SHOW (7469) or mauiarts.org  (On sale: Tuesday, 07/03/2018 at 10:00 AM)

Oahu: bluesbearhawaii.com - Anna O'Brian's, Good Guys Music - Kapahulu, Coconut Grove Music - Kailua 
Big Island: bluesbearhawaii.com Gertrude's Jazz Bar, Kona Music Exchange - Kailua-Kona; Kiernan's Music - Old Town Kainaliu; Waimea General Store - Parker Square, Kamuela; Waipio Cook House, Top Stitch - Honoka'a; Kukuau Studio, Hilo Ukuleles & Guitars, Hilo Music Exchange - Hilo;  Kea'au Natural Foods - Kea'au
A Blues Bear Hawaii Production 
"Keeping The Music Live"
Concert Information Hot Line 808-896-4845
Follow us on Face Book:  www.facebook.com/lazarbearproductions